Eagle Ford Shale SWD Analysis Map
We maintain a comprehensive set of Commercial Saltwater Disposal maps for the Eagle Ford Shale Play in Texas. Our highly detailed maps are a critical source of information for developers and facility operators.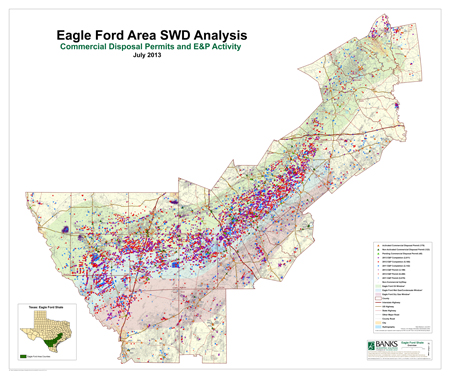 Features of our Eagle Ford Shale SWD Map include:
CDW permits (Activated, Non-Activated, and Pending)
Permitted injection volume and intervals
Last 6 months of injection volumes (water and skim oil)
Average monthly water injection volumes, skim oil volumes,
and skim oil percentage by county
Non-commercial disposal well locations
Last 3 years E&P permits and completions by county
Rig count by county (latest available data prior to release date)
We also provide SWD analysis maps for the Permian Basin region in Texas as well as the Bakken Shale region in Montana and North Dakota.
For more information, please contact the Banks Group at banks@banksinfo.com or (512) 478-0059.