Eagle Ford Shale SWD Data Package
Banks Environmental Data maintains a comprehensive database of commercial saltwater disposal wells for the Eagle Ford Shale Play in Texas. Our highly detailed data packages are a critical source of information for developers and facility operators.
Our SWD data can either be provided in digital KMZ format for Google Earth, GIS shapefile, or as a custom printed map. Request data by the county or provide a specific region of interest. Turnaround times may vary depending on request.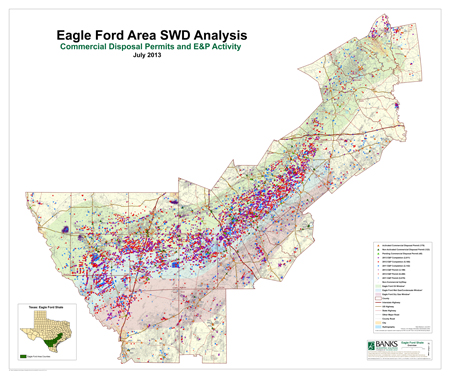 Standard features of our Eagle Ford Shale SWD Data Package include:
CDW permit locations: Activated, Non-Activated (KMZ/GIS)
Last 3 years E&P permits and completion locations (KMZ/GIS)
Non-commercial disposal well locations (KMZ/GIS)
Permitted injection volume and intervals  (Excel table)
Premium features available:
CDW permits locations: Pending SWD permit (KMZ/GIS)
Last 6 months of water and skim oil injection volumes (Excel table)
48″x42″ Printed wall map (custom sizes available)
We also provide SWD analysis data packages for the Permian Basin region in Texas as well as the Bakken Shale region in Montana and North Dakota.
For more information, please contact the Banks team at banks@banksinfo.com or (512) 478-0059.