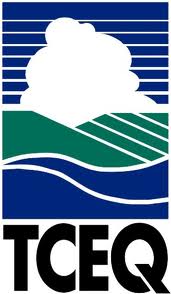 The Texas Commission on Environmental Quality (TCEQ) has proposed revised surface water quality standards. The proposed rule language was published in the September 13, 2013 edition of the Texas Register. The revisions would create a new category for recreational waters, known as "primary contact recreation 2" (PCR2) that would permit weaker quality standards for surface waters with this classification. The term "primary contact recreation" would change to primary contact recreation 1 (PCR1).
The new rules would ensure that industrial cooling water areas are not subject to "[interference] with reasonable use of such waters. Proposed revisions also specify that numerical temperature criteria are not applicable in designated industrial cooling water areas" (§307.4).
"Maximum temperature differentials for freshwater streams, freshwater lakes and impoundments, tidal river reaches, and bay and gulf waters, as well as maximum temperature criteria specified in Appendix A of §307.10, would not be applicable within industrial cooling water areas" (§307.4).
The takeaway: if polluters can effect a PCR2 designation for the water they are polluting, they are no longer responsible for the environmental impact of their actions.
PCR2 would permit higher bacteria levels.
According to the Lone Star Chapter of the Sierra Club, the PCR2 designation would apply to streams "characterized as having physical characteristics or public access limitations that result in less use." In other words, less popular recreational waters would be subject to less stringent standards of environmental quality.
Warmer water from industrial sources means higher bacteria levels. The new category would increase the levels of bacteria allowed in water bodies classified as PCR2, which would result in perpetually polluted streams and absolve polluters of responsibility for remediating any damage they cause.
According to the summary submitted to the Texas Register, "Recreational use consists of four categories – primary contact recreation 1, primary contact recreation 2, secondary contact recreation 1, secondary contact recreation 2, and noncontact recreation waters. Classified segments are designated for primary contact recreation 1 unless sufficient site-specific information demonstrates that elevated concentrations of indicator bacteria frequently occur due to sources of pollution that cannot be reasonably controlled by existing regulations, wildlife sources of bacteria are unavoidably high and there is limited aquatic recreational potential, or primary or secondary contact recreation is considered unsafe for other reasons such as ship or barge traffic. In a classified segment where contact recreation is considered unsafe for reasons unrelated to water quality, a designated use of noncontact recreation may be assigned either noncontact recreation criteria or criteria normally associated with primary contact recreation."
In short, if a stream is too difficult too clean up or not many people use it for recreational purposes, it will not be subject to the stricter standards of the PCR1 designation.
If the proposed revisions are implemented, Texans should be aware: if you plan on swimming or fishing in a stream designated as primary contact recreation 2 or as secondary contact recreation 1 or 2, the water could make you sick – and no one is responsible.
TCEQ is accepting public comments on the revised rules until October 24, 2013. A public hearing is scheduled for October 17, 2013 in Austin.

Carissa Ries
carissar@banksinfo.com